Hello, my name is Lucky Star. I was born on 4 February 2006 and left to die in a litter bin together with my brother. Sadly my brother did not survive but I cried and cried and Eva & Jose found me and took me home and cleaned me up and gave me lots of nice warm milk and warm place to sleep. Their Korat girl, Rosie, agreed to adopt me and to be my foster mum and to teach me everything I need to be a nice kitty. I don't know my ancestry and I know I am not a Korat but sometimes I almost feel like one...
When I am older and I have had my vaccinations and a microchip I would like to go to good home with some nice people...
| | |
| --- | --- |
| | |
| Lucky Star at 4 days old | 1 week old and enjoying her feed |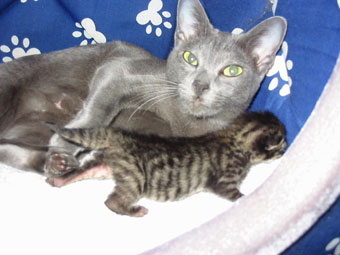 Rosie is so sweet, and decides to be 'foster mum' to Lucky Star.
19th February, 2006
Eva and Jose took me to see the vet yesterday to determine why I had such a fine and sparse coat on my back and the crinkly skin. The very nice vet said I was developing very well for a 2 week old kitten and that the most likely reason for my fuzzy coat, high cheekbones and outgoing personality was that I was a Devon Rex or a Devon Rex X cross kitten. Well at least I now know something about my mum and dad!


| | | |
| --- | --- | --- |
| | | |
| Lucky Star at 2 weeks | | and starting to explore |
| | |
| --- | --- |
| | |
| and very inquisitive | between very important 'naps' |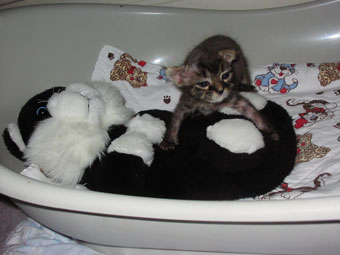 Lucky Star just loves "Boris"
| | |
| --- | --- |
| | |
| Lucky Star at 4 weeks, with her 'mousie' | Lucky Star with Gi-Gi |
4th March, 2006
"I am now 4 wks old and I like to play with my toy mouse and spending time with Gi-Gi. You my notice that my coat is now quite short, soft, silky and wavy...a lot like a Devon Rex I am told".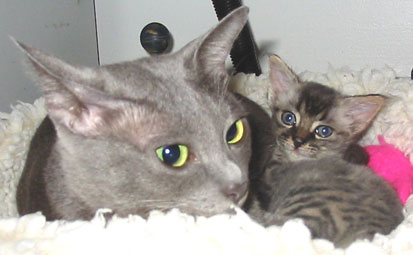 Lucky Star at 5 weeks, with Gi-Gi
17th March, 2006
"I like Gi_Gi she is teaching me about what being a cat is all about and gives me lots of licks and cuddles when I am good".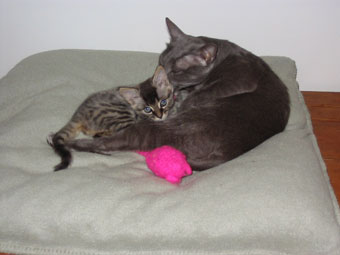 Lucky Star is 7 weeks, with Gi-Gi
26th March, 2006
"I am 7 weeks old already and Gi-Gi and I are good mates".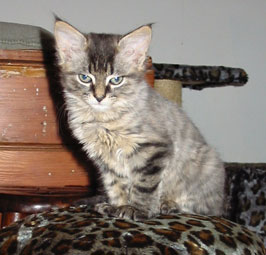 Lucky Star at 8 weeks old
2nd April, 2006
A lovely home has been found for Lucky Star, here in Sydney. She will be going to her new home when she is about 14 weeks old. We would like to take this opportunity to thank everyone for their offers of help and support.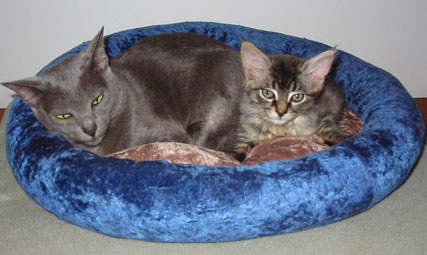 Lucky Star at 9 weeks old relaxing with Gi-Gi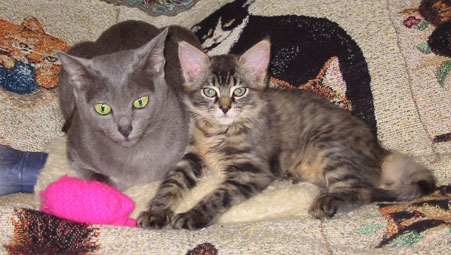 Lucky Star at 10 weeks is quite the 'young lady'.
| | |
| --- | --- |
| | |
| Lucky Star at 15 weeks old | Lucky Star with her new owner, Nina. |


© 2002 - 2016 Avril Hodge