Our kittens have found homes not only in Australia, but in many places around the world. We like to keep in contact with our kitten owners and enjoy hearing about their progress. These are a few of our kittens (now cats) and some observations from their 'humans'. If you happen to be 'owned' by one of our Korats, and would like to send us some recent photos, please email us at: doklao@bigpond.com



Korats and their friends
When our kittens go to their new forever homes, they find many new friends. Some of the two legged variety and some of the four legged variety. Here are just a couple who have bonded with their new found friends.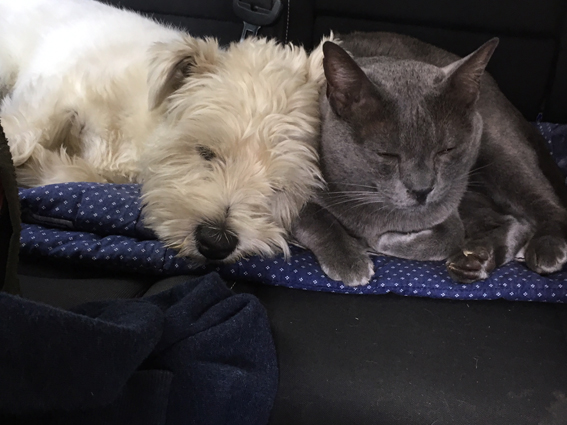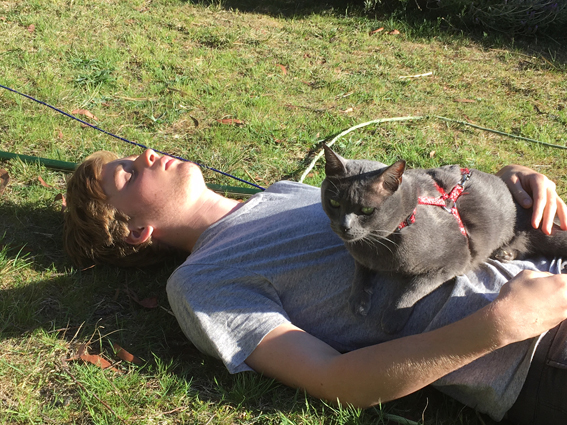 Meow with her Scottish Terrier friend (left) and with one of her devoted humans (right).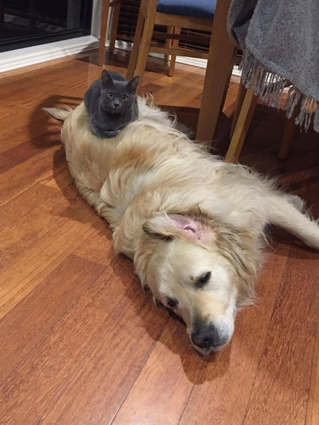 Keisha and her devoted Retriever friend



Jackson & Keifer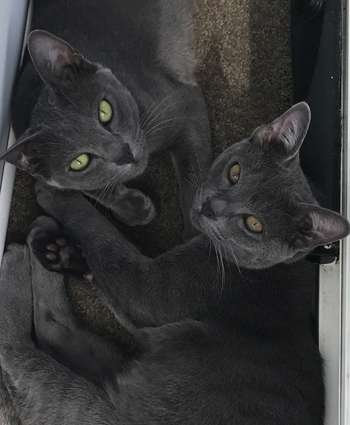 Why 2 Korats are better than 1
Just thought I should send through this cute picture of Jackson and Kiefer which was taken on a recent beach house holiday. When they are not chasing each other around we sometimes get a moment of bliss like this ….Margaret


Slinky & Calvin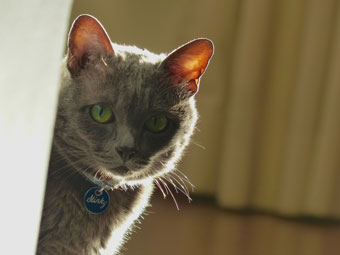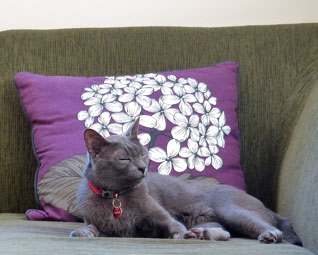 Slinky posing beautifully for the camera and Calvin being his usual handsome self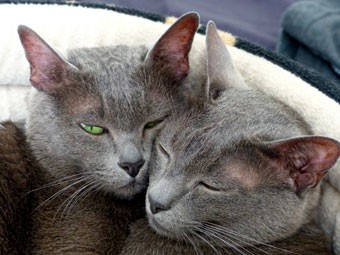 Slinky and Calvin catching some zzz's together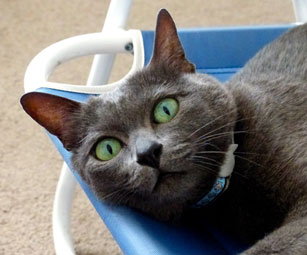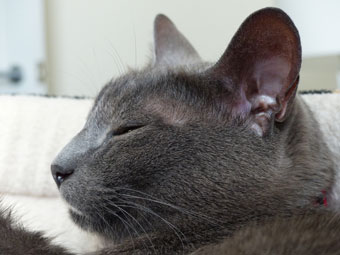 Slinky (left) and Calvin (right) January 2013
| | |
| --- | --- |
| Calvin (left) and Slinky | Calvin is the 'cat in the hat' |
| | |
| --- | --- |
| Calvin eager to explore | Slinky out on his leash |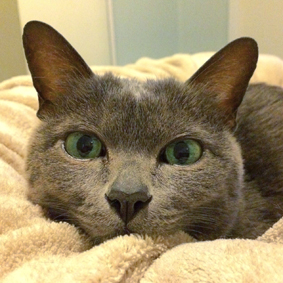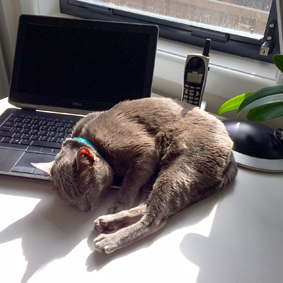 | | |
| --- | --- |
| Calvin still a cuddly boy | Slinky taking things easy |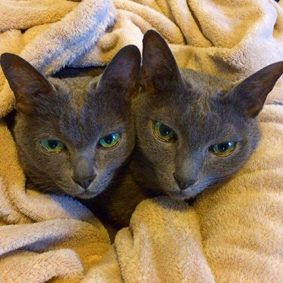 We still look great at 15 and 13 years old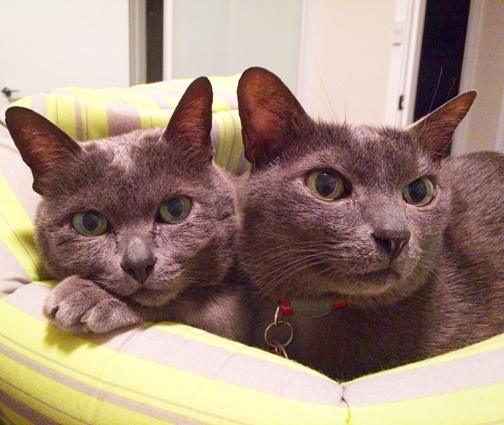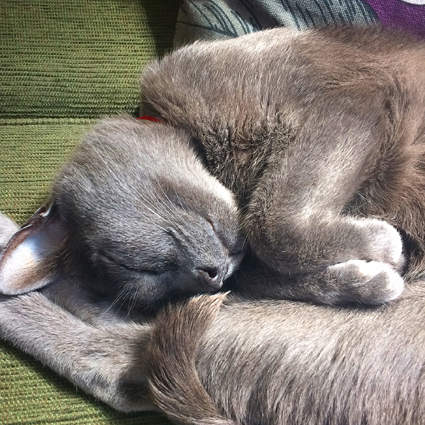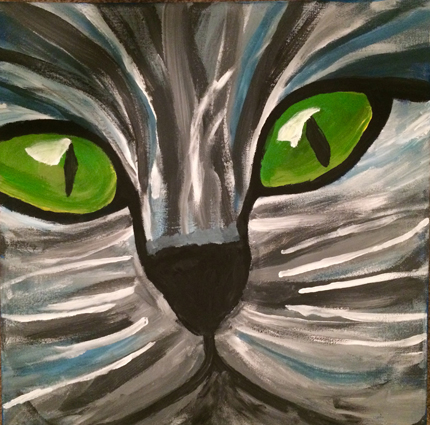 Slinky is 16 and Calvin is 14 (left) Calvin having a snooze (middle) and a portrait of Slinky done by a friend's 12 yr old daughter (right)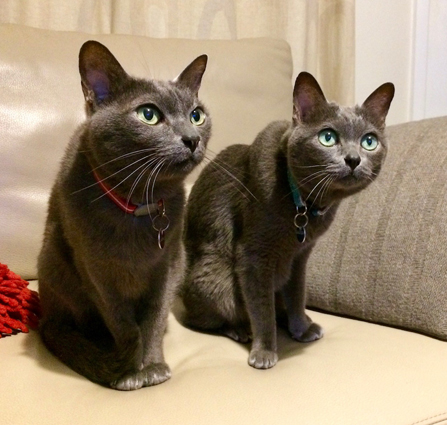 Slinky (left) and Calvin (right)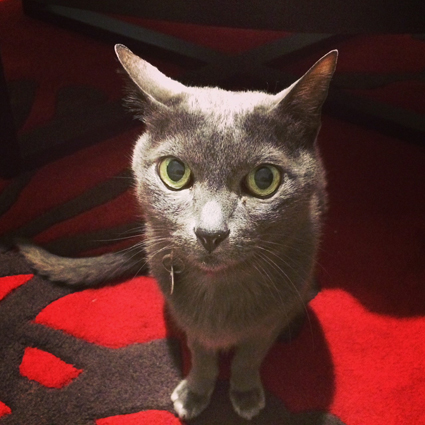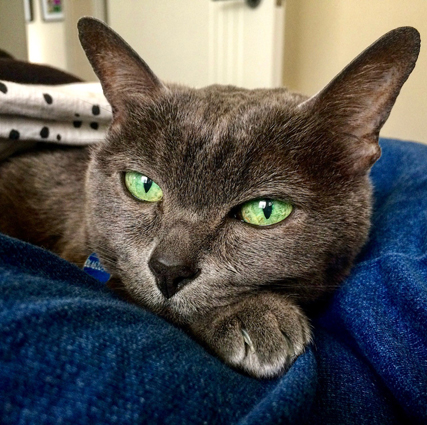 Calvin ready for something, and Slinky taking it easy.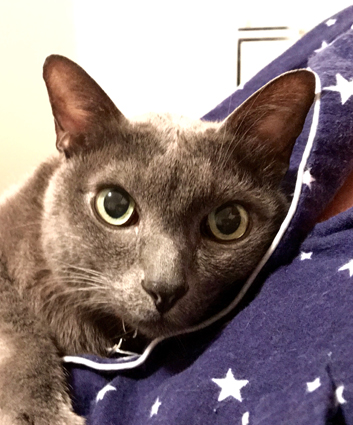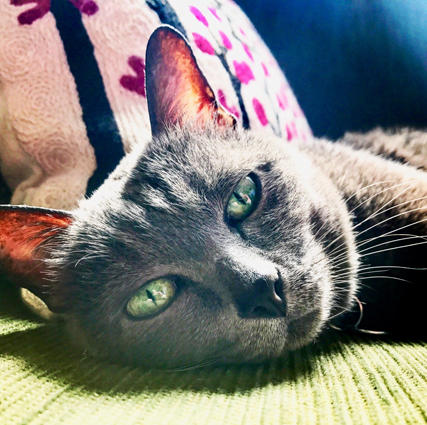 Calvin is now 15 (left) and Slinky is 17 (right).

January 2018 - Slinky (now 17) and Calvin (now 15) are an example of Korats who are 'growing old purrrrfectly'.


February 2017 - Slinky (16yrs old) and Calvin (14yrs old) are still going well. Calvin has slowed down just a touch but is as cuddly as ever. Slinky is little changed and still has all the spunk we know her for! Both are beautiful, both can still talk like nothing else and we are still totally in love with both of them. They remain wonderful little friends. - Emma and Denise

July 2015 - Just Slinky and Calvin saying hi as it has been a while. Both are doing well and continue to share their special brand of Korat companionship with us. Slinky is now 15 and Calvin is 13. On a recent visit to the vet, they couldn't believe Slinky's age as she still looks so good. Calvin is still a gentle and cuddly boy. He has a beautiful temperament. - Emma and Denise.

January 2014 - Here are some updated photos of Slinky and Calvin. Slinky and Calvin are the same as ever, if not more cuddly, as they get older. They are healthy and still run around like kittens, bringing us joy every day - more than we could have ever imagined. We sometimes forget that they are now 13 and 11 years old, with Slinky turning 14 in April. They continue to bring brightness, fun and companionship into our lives and are not only great friends with each other, they are also our wonderful, treasured little friends. - Emma and Denise.
<![if !supportLineBreakNewLine]>

January 2013 - <![endif]>

Slinky and Calvin are great.

They play most of the day and night together or sleep. At night they turn into lap cats and generally like being around us all the time. Calvin is absolutely adorable, mischevious but not in a devious way; more a boofy boy way and cuddly. He still fetches the sparkle ball like a cattledog and has good conversations with us from time to time. Everyone that comes over is absoltely smitten by him. He also kinda revs his feet up on any temporary surface, a bag, or piece of paper, anything; and looks hilarious! We just tell poeple that he's 'wiping his feet' with a laugh. Slinky is her usual, more complex self. She still stands her ground when visitors, particularly little poeple, come over and has been less naughty to guests. She's so special though, talks so much, communiates much more specifically than Calvin and loves laying on our laps. She has different calls for when she wants a treat, pats or dinner and play. She looks so funny too when playing and her tail goes bushy. Calvin's rarely does. She's clever and has tried to open the back door several times. They get on really really well. - Emma and Denise.

Wisp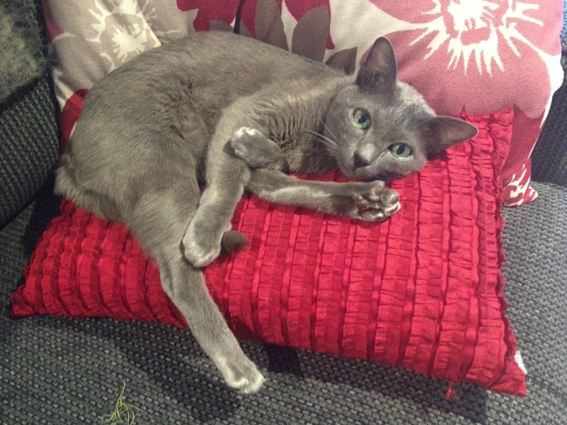 Wisp was from a Doklao litter, born in August 2000 and is still a happy and healthy girl at the grand age of 16 yrs. We live in Perth now (previously Adelaide) and she is still the ruler of the household. She grew up with 2 Rottweilers and now enjoys bossing her Rhodesian ridgeback, Cherry, around. She is still quite playful and 'helps' when I sew or make resources for school. Laminated plastic off cuts are her favourite. Wisp is a big cuddler and her favourite place is being tucked into my side, my chest, or my right (and only the right) shoulder. She is a big talker and loves being talked to. As I type she has barged her way onto my lap and settled in to purr and nuzzle.
Thank you for sending her to us and all the joy she has brought. Let's hope she is with us for a few more years.

- Karen and Steven

Tasanee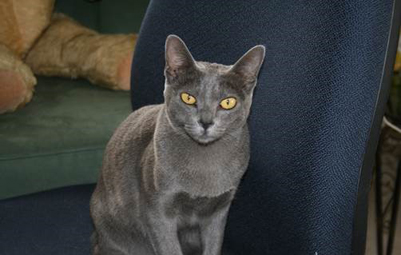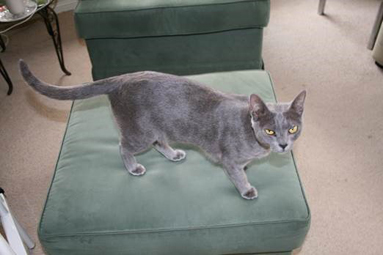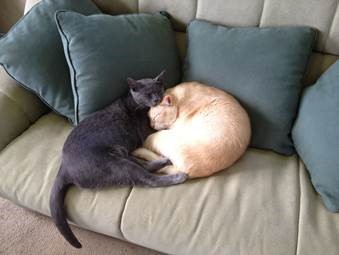 All going well in our new house. Tasanee spends hours watching the sheep, cows and horses in the paddocks seen from the cat run and is doing really well. Sitting here on the keyboard, chasing the mouse as I type this - lots of spelling corrections! She speaks to me always in her gentle voice, but always has the last say – don't they all! Love her to bits. She isn't crazy on being cuddled or held, but loves to be with me, in the room and always close. She won't sleep on the bed with Dodger or me, but does her crazy run at three in the morning where she shares the 'love' with us by bouncing on the bed then off at 100 miles an hour around the house. The joys of limitless energy. Everyone who visits us finds her fascinating – she has to greet everyone. - Kerry

Chai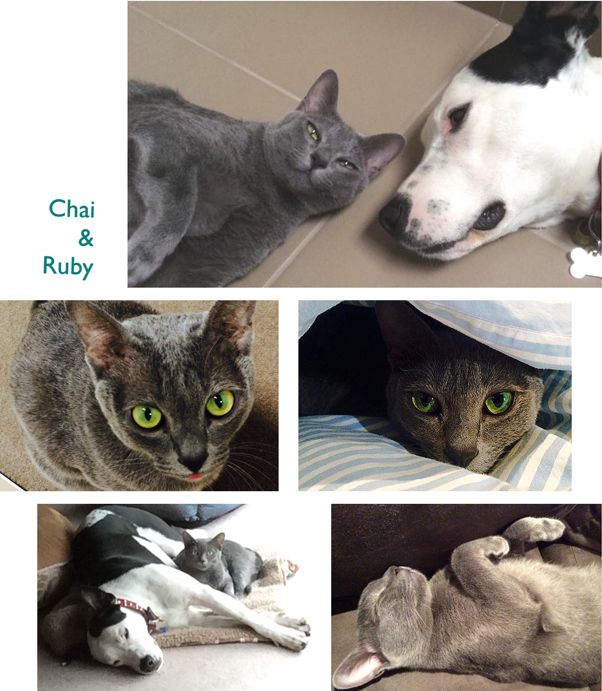 Chai is doing very well and is happy. She spends most of the day sleeping on my side of the bed or napping next to Ruby in the sunshine, through the big picture window and chattering at birds that fly around our backyard. In the evenings she naps on the couch, nestled alongside my thigh ,between my husband and I while we watch TV. In between she likes to follow us around the house and inspect what we are eating. When we are away the vet/cattery spoil her and she's a favourite there. She has been a joy!

-

Lauren

LuLu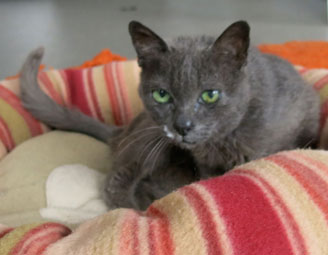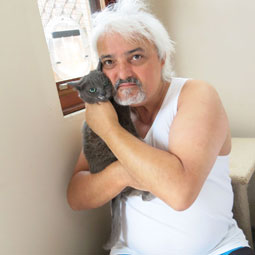 Doklao Tallulah Softpaw (Lulu) was born on 21 January 1995. She was from our first litter bred under the Doklao prefixand was adopted by a young couple together with her litter sister Doklao Dakota Pearl. Due to a marriage breakup the two litter sisters were rehomed when they were just 18 months old. Sadly Dakota met with an accident and died in November 1997. However, Lulu stayed with her adoptive family Paula and Siobhan Horniman until 2002. Maree Brewer moved next door to the Horniman's in September 2002 near Manly on the Northern Beaches.

Maree says that "Lulu ventured into our house for visits and then just decided to stay. With agreement arranged with the Hornimans she officially came to live with the Brewer family, Dennis, my two stepdaughters Alison and Samantha and myself from November 2002 where she still lives today. We all love LuLu her strong attitude, talking, always answering you back and her tender lap hugs. Her heart shaped face and beautiful green eyes light up the room".

Lulu is now more than 19 years of age and reasonably good health. She is a grand old lady with attitude and is much loved by all who meet her. These photos of Jose with Lulu and Lulu resting were taken in March 2014.
<![if !supportLineBreakNewLine]>
<![endif]>
Coco & Cookie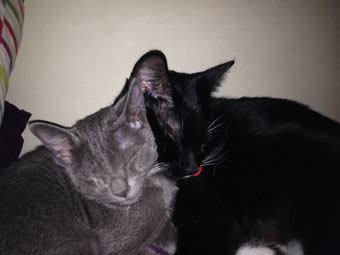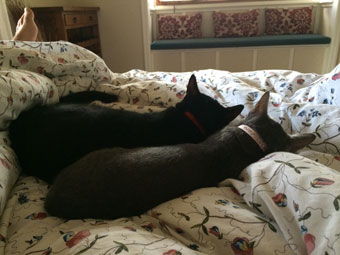 February 2014 - Our delightful little Coco (who is now six months old) has settled in to our home in Brisbane really well and her and Cookie (our year old domestic shorthair cat) have become the very best of friends. The two of them do everything together including eating, sleeping, cleaning and of course playing all day long.
Coco has shown that in addition to being a dare-devil (we find her in the most strangest of places in our home), she also has quite a mischievous side, particularly when it comes to paper related products including tissues and toilet paper shredding it into a million pieces and then rolling around in it.
This provides hours of entertainment for our 5 year old son Jack, my husband Cameron and our other cat Cookie who all sit back and enjoy her antics together. She has proven to be a friendly cat to all that come to our home and seems to enjoy new people, particularly the children who love coming to play with her and throw her little glitter balls, which she willingly goes and fetches.
We are so happy to have her as part of our little family and we are very grateful that we were able to have the opportunity to share our lives again with another Korat - Alison & Cameron.

Kory & Koko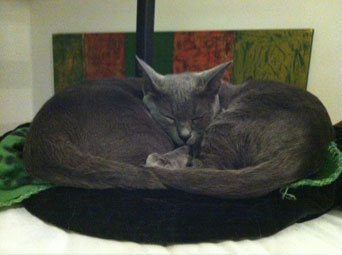 March 2013 - I just adore this pic of Kory nestled behind Koko - very Ying and Yang almost. Little Koko is the one in front. - Michael
Emerald and Jade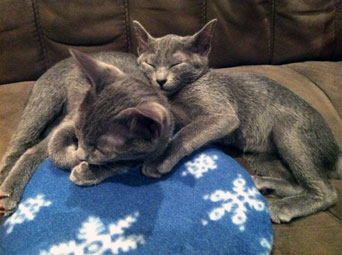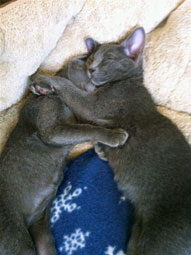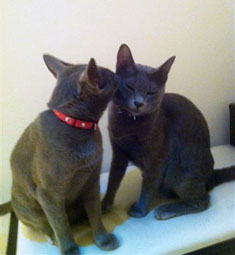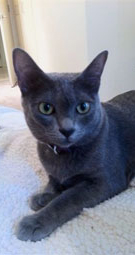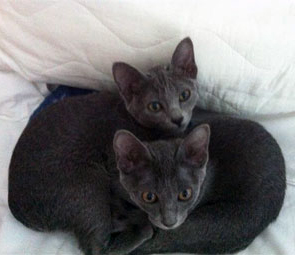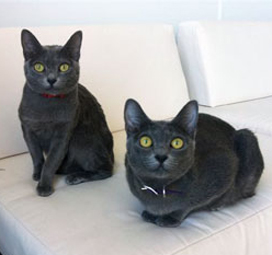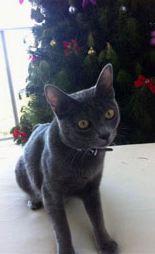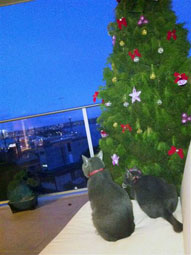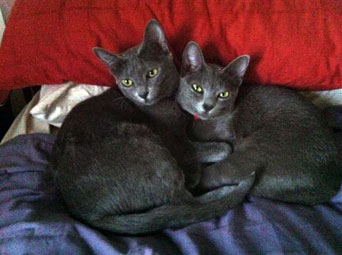 Our girls are so sweet,they are an absolute blessing. Both have very different personalities, however they are very complimentary and they are constantly with each other as well as us. They have always curled up together at nights and only recently have the odd night alone. But it doesn't last long alone before they find each other.

Emerald is top cat and very very smart. She worked out very fast how to angle the blinds to get the sun on our faces in the morning, bless. She is much more quiet and a little less cuddly however I have spent time bringing her out of her shell a bit as I noticed she was being a little standoffish. It worked a treat. She's just a lady who likes to be asked, unlike her boisterous sister, Jade who loves attention and bounds at you.

Jade is very Ash-like, quite muscular and bigger boned. She is adorable though, always picture perfect, bright eyed and up for a cuddle. Her eyes are starting to go green now. It's almost like a new stunning girl emerging from her kittenhood. And even though Ash is sadly no longer here, rest assured a big part of him lives on in his daughters, especially Jade, who definitely has his voice - so his legacy lives on. - Deane and Carolyn

Priya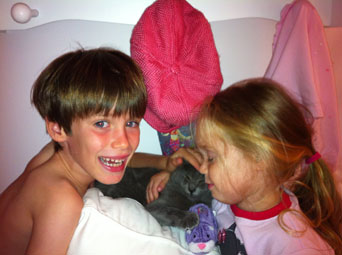 Just letting you know how much we love Priya, she is just a sweetheart...
here she is with the kids, they are squashing her with love, she follows us all
around just like a dog and loves to be with people all the time.
So many people comment on her lovely temperament !! - Sarah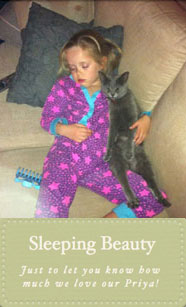 She is just two now, and a delight in every way. Here she is,
snoozing on the couch with Marlena. Our new baby is now
15mths and his first word was 'miaow'. - Sarah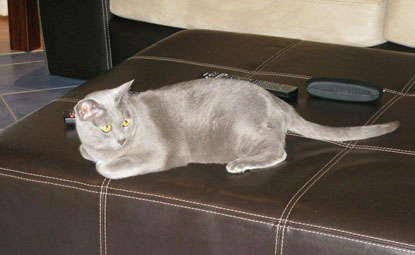 Kwan Chai in February 2012
Kwan Chai in December 2009
Updated December 2009.
Kwanchai has grown up into a very nice cat, his eyes are a bright green and his always playing around keeping us amused. He still has fun terrorising his mate Hitler, he certainly has the run of the house.
My brother loves playing around with him when he visits, he is amazed at how friendly he is and how Kwanchai behaves like a dog. Just thought we'd let you know how well he is doing and thanks again for letting us have such a wonderful healthy cat, he gives our family much love and he loves the attention. - Steve, Belinda, James and Kimberly
Kwan Chai and his mate 'Hitler'!
Updated December 2007.
Here are some recent pics of Kwanchai, he is going well and growing into a very beautiful cat, who has a great character and keeps us amused for hours. He is very determined to get his own way most of the time and gets into lots of mischief only because he is so inquisitive. He certainly is a great companion and very much a part of our family. - Steve, Belinda, James and Kimberly

Kwan Chai is going really well and is a bundle of fun, he is so lively and very affectionate, it doesn't take long to hit his purr button. He has so much personality. Watching him and his new mate Hitler, whom we obtained from the lost cats home, have great fun together and keep us entertained for hours. Hitler is much more gentle natured as in everything he does is very soft and gentle, whereas Kwan Chai just tears in and gets the job done, I really enjoy that characteristic that Kwan Chai has.
Hitler, as it turns out, was born at about the same time as Kwan Chai, no more than a week apart so they get on extremely well and soon start calling out for each other if they are apart for to long, like 10 minutes. Hitler got his name from the little moustache he has which suits him now, his name got a little getting use to but certainly suits him now.
The vets were quite interested in Kwan Chai as they have never seen or heard of a Korat before and loved him. Thankyou for your help over the time we have had Kwan Chai and thankyou for letting us share a life with a Korat as they are great companions. Kwan Chai is most definitely a loved part of our family as Hitler is now and I'm sure Hitler appreciates him as well. - Steve, Belinda, James and Kimberly
Finn and Dame Nellie
Finn and Dame Nellie sun worshipping
On the left is Finn (ex Namasaya Percival from Perth) and on the right is Doklao Sonthisa, now called Dame Nellie because of her very high, very demanding arias when she wants something. They are both a joy to have around, still playing like kittens unless they find a big enough sunbeam for the both of them. We are about to have our first winter in Tasmania though which might be a challenge for all of us and it will be interesting to see how the pair deal with snow - Daniell


Chesda
Chesda with his 'Mum & Dad'
Chesda is the most beautiful little man – he is the centre of our world! Brave, curious, cuddly and very vocal (we have rapidly learnt Korat), he is a much loved little prince to not only Nick and myself, but also to our family and friends who visit him often – Sarah & Nick.



Jasper is growing up. Five months old just yesterday. He's just so adorable. Still naughty, but he's the cutest little cherub, so it doesn't matter. I love having him - Jessica



From L - R, Miss B, Lia & Sunti
Now that Autumn is here and the mornings a bit cooler in Canberra, the Three Amigos love nothing better than to cuddle up together on their heat pads as in this photo. Come night time the only place they are interested in cuddling up is with us - gets a bit crowded with five in bed but it sure beats an electric blanket and much more environmentally friendly.
They do feel the cold, little Lia more so than the others, so when the day warms up they soon find a nice spot in the sun in the lounge room windows and then in the afternoon in their back veranda enclosure, aka 'Karsel Korat'.
All this resting of course is in between them having their noses in everything - they are so inquisitive and no matter what you do they have to be part of it, but we wouldn't have it any other way. - Di, Paul & Martin



Ty and Giselle
Ty and Giselle (Miss G) - friends for life!
I only intended to have one Korat, but after a six months of feeling guilty for leaving Ty alone while I was at work each day, I gave in and got him a friend. It only took about 2 days until I found them grooming each other. They have been best friends ever since. Giselle took such a shine to Ty that for a time she thought he was her mum and was started suckling. He is such a good natured boy that he didn¹t even seem to mind.
Eva encouraged me to show them and now Ty is a Grand Champion and Giselle is a Champion. Some noteable results are below.
Gd. Ch. Doklao Blue Thai Adonis
5th Neuter Cat, Group 3, Ring 3 - Federal Cat Show 18th Jun 2006
4th Neuter Cat, Group 3, Ring 2 - Sydney Royal 16th Apr 2006
Ch. Doklao Divine Miss G
5th Female Kitten, Group 3, Ring 1 ­ Federal Kitten Show 5th Feb 2006
2nd Female Kitten, Group 2, Ring 3 ­ Federal Kitten Show 5th Feb 2006
4th Spay Cat, Group 3, Ring 3 ­ C.C.C.A. National Show 16th Jul 2006
I can¹t recommend this breed highly enough to anyone looking for a pet, they are affectionate, intelligent and extremely entertaining. - Lisa.



Miu Miu
The 'little princess', Miu Miu.
Miu Miu is quite the character. Lately, the 'little princess' has decided on a new game to scare the daylights out of me. She's taken to hiding on top of cabinets, fridge and shelves and then doing a 'dive bomb' at the unsuspecting human(s). The children find it hilarious and Miu Miu is encouraged by their laughter and giggles to repeat the feat over and over with different people. Well, needless to say, her silly joke got a bit stale when we had a visitor over last night for dinner. She was an elderly lady with a very elaborate hair piece and Miu Miu was eyeing it the whole night. The naughty little girl went into hiding atop the fridge and waited...........
We had no idea until it was too late!! You can imagine the pandemonium she caused. She dived and instead of dashing off like she always does with us, she got tangled with the wig and was caught! There were a lot of screams and panic, as you can imagine! I was so embarassed; the lady had to leave without her hair piece and Miu Miu is still slightly traumatised by the incident. I only say slightly because I know it won't be long before she tries something new again! - Wendy.
Ellie Belle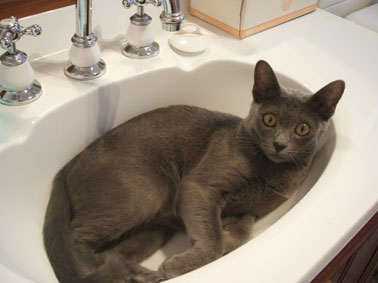 Ellie Belle in her favourite sleeping spot!
Just wanted to let you know how Ellie Belle is going. She is gorgeous of course!!! She has SUCH a personality, one like i've never seen on a cat before. She is so observant and watches everything we do. She knows when we are going to bed, leaving for work or going out and she lets us know she's not happy! We spend as much time with her as we can, but it never seems to be enough! - Amber.
Sprocket & Boo
They are just such a pleasure and we often wonder how we entertained ourselves before we got them. Boo has recently started playing fetch and likes bringing the mousey back to Dylan and I alternatively, but rather than bringing it to us he'll put in in my handbag or on Dylan's backpack. Sprocket is much more interested in riding around on our shoulders and checking out what we're doing. They are still the best of mates and we'll rarely see one in a room without the other following very quickly.
Boo loves to have a chat and let you know what's going on. Sprocket's a little quieter but he makes up for it in cuddles. No-one can make it in the front door without being checked out and their laps used as a bed. - Nicole.
Asshar
Asshar with his friend Bijou
I think its a great idea that you have photos and stories of all your Korats here. Asshar is all of those stories rolled into one. He does all the things that people have described. They certainly make wonderful companions. I cant imagine my life without Asshar, he just has the biggest heart I have ever known in a cat. He greets me at the door every day. He watches me do everything, but I call it helping me. He loves it when I am putting clean sheets on the bed, one of his favourite games. He follows me everywhere including when I go to the toilet. He sits on mine and my flatmates shoulders like he is a bird for ages. Of course he loves to play fetch and never seems to tire of it. He is Asshar, then Korat, then dog, then bird, then human. I would love for you to place his picture on the website, so everyone can see just how cheeky and adorable he is as well. -Denise.


Sepiroth
| | |
| --- | --- |
| | |
I had a hard time convincing my Nan to get me a cat, especially one neither of us knew anything about. I bought a book that mentioned Korats, and looking at both the illustration, photographs and breed description, we fell in love. We discovered then Eva and Jose on the internet after I looked up Korats in Australia. Curiously, we began to email each other asking questions about the nearly unknown breed, then Nan finally consented and we went to get our little bundle of joy.
Four and a half years later, he still owns us all. He likes to help with the housework, making the beds (playing beneath the sheets), helping to wash the floor (mainly walking across the tiles while they are being mopped or chasing the mop), assisting Pop in the workshop (supervising from the position on his shoulder as he works) and of course, our two small dogs adore him, they are great mates (Bob our jack russel terrier still hasn't learnt there is a cat around each corner).
He has his definite routine; he wakes up at 7, goes out for his morning walk, comes back has his breakfast, then goes back to bed - usually with me til I get out of bed a few hours later. If it's a cold day, he'll go into the laundry where he likes to sit up in the rack opposite the dryer getting the heat, if it's a warm but windy day, he'll sleep in his little cot on the top of the bookshelf in the office where the sun is and if it's a beautiful day, he goes to sleep outside in my car. At about 6:30pm he'll come sit on the computer with me (what would I do without his editing skills as his tail likes to point out the errors by covering them entirely) as we do our work then he'll go have dinner at the same time as we do. From then he likes to sit on Nan's lap as they watch TV together. If people are awake after 10:30, he begins to tell us off, he has to go to bed with someone after all.
He's great fun to have around, he had taught us how to laugh. None of us know what we'd do without him. His loving, strong personality make him unique. - Keira, Lorraine & Rod.



Dona & Lucky (& their friend Fluffy)
Lucky (above) and (picture right) Lucky curling up with his 'mate', Fluffy
Dona (left) with Lucky, and (right) Dona in a moment of reflection
Lucky (left) and Fluffy keeping warm, and (right) all 3 of them have found the 'heat source'.
Lucky came into my life 5 years ago as a companion for my semi-longhair moggie, Fluffy, and they became friends almost instantly. I felt that I could sell my TV after getting a Korat. Being owned by a Korat is not boring. I quickly found out that he was very intelligent when he taught me how to play fetch. I'm not joking: they do OWN you, you'll never ever feel lonely again. He is a very smart, loving cat and he loves to play. Some friends of mine from the cat world have called him 'the most affectionate cat ever'. He greets people at the door and then they hardly get to sit down before he has placed himself in their lap purring. He is always 'helping' me with whatever I do: housework, reading a book etc. We sleep together under my doona and he purrs. He holds the show title of Double Grand Premier Neuter and is now retired from competition. After 4 years in Australia, we moved to Denmark. Lucky handled the long trip like a real trooper and has settled in very well in Denmark. Apart from Fluffy, we also live with Dona, a Korat girl from Denmark. Lucky adores her. I couldn't imagine my life without him and I will be forever grateful to Eva and Jose for trusting me with such an amazing boy and providing lots of good advice. - Sanela, Denmark

Update 2011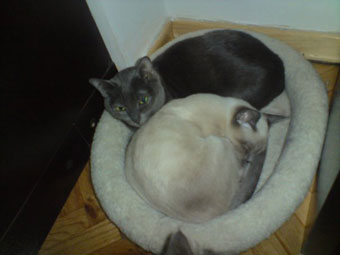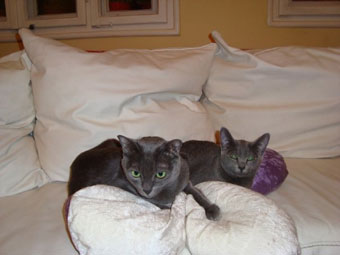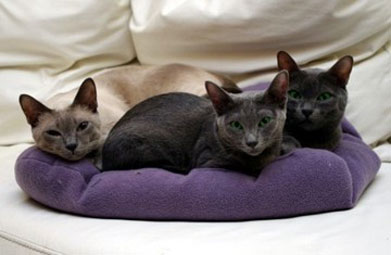 Matey (left) with Matilda and Lucky
Fluffy and Dona have passed away and Lucky now has 2 new friends: Matilda and Matey, who is a Thai Blue Point. We have been living in Serbia for the last 3 years. Losing his mate Fluffy was very difficult for Lucky but with time he accepted it and is now top-cat. The three of them are always sleeping together in a pile and they are always where I am. Lucky enjoys being the boss and he often grooms his two friends. He especially has a soft spot for Matilda. Lucky gets more wonderful every day. He turned 11 recently and is a wonderful boy. He is very attached to me. I love him and can't imagine my life without this very precious boy... - Sanela, Serbia

Mia & Elliott
| | | |
| --- | --- | --- |
| Curled up together | Sleepy kitties | Mia in close-up |
Mia (left) and Elliott (right) entertain their little friend.
| | |
| --- | --- |
| | |
Elliott & Mia - rulers of our house
Korats are known for their playfulness and these two are no exception. We picked up a 5-mth old Elliot in August 2001 from TriJoy in Queensland, and it wasn't long before we realised that he was going to require a lot more attention than we could offer. The obvious solution ... get him a playmate! Eva advised that Zoë was to have her last litter in April 2002, and we were delighted to have received Mia from that litter.
Although there is 13 months age difference, the introduction of one tiny Mia to Elliot went more smoothly than ever could be expected. Weeks of worrying about their first encounter were for nothing. She was separated in one of the bedrooms by a closed door, but her squeaky kitten meows drew Elliot's attention immediately. They sniffed each other out through the crack under the intervening door and it was obvious they wanted, no needed, to meet each other immediately. Once the door was opened a few obligatory hisses were dispensed and then they bonded ... and have been inseparable ever since. The extent of their bonding wasn't really apparent until Mia had to go to the vet for her operation a few months later, whereby Elliot paced the house for the whole time she was away calling out for her.
Both are adorable, extremely active and playful and of course somewhat demanding (they are cats after all). But their entertainment value more than compensates for their forgivable neediness. They consider expensive toys a waste of money ... they get great value out of screwed-up cash register dockets and love to chase these around the house. Some cheapo little fury toys also get a pounding, literally! Both love to jump as high as they can against the hallway wall to swat whatever toy/paper we care to throw. Playtime is a late night ritual now; it doesn't take long but it sure helps them get a good night's sleep, which helps us sleep as well!
Despite their quite different personalities and temperaments, they get along famously and are a delight to have as our constant home companions. - Ron & Juliette, keepers of the Lord & Lady Korat.
Supranee, Simon & Sumi resting together Sumi has settled in very well
We have finally got the ClearNet up and the cats have a wonderful space outside they can run around in with a garden as well. They enjoy this a lot. Simon seems to have befriended a possum and they stare at each other for hours each evening until we bring him in regardless of his noisy protests to stay outside. The second photo (above right) is of Sumi taken back in April. He has put on some weight and we can no longer feel his spine or ribs when we cuddle him. He loves to play and he and Simon have become quite good friends and they equally chase each other round the house and up the stairs. Supranee has settled in well to the new place and has 'spotted' all of the good sleeping places ahead of the boys. She is still clearly the ruler of the house (that includes Sarah and I) and enjoys ruling roost over the rest of us. - Liz & Sarah
Doklao Matilda Blue of Buenaventura
Matilda arrived in the US late in September, 2001, after several delays due to the 9-11 attacks. She flew Qantas with her littermate, Porsche (Middlebrook) in a first class crate decorated with matching floor mat and drapes made by Eva. These five month old girls stepped out of their travel suite at the vet's office and immediately took over! Both still dominate their households.
Matilda has everything I was looking for – very light coat, short wide face with enormous eyes, now a lovely Korat gold-green. She's petite and has matured slowly. At four and a half years, after three litters, she has rounded out but has lost none of her speed and agility. She had thirteen kittens with Love Sumalee Bluboy, resulting in a very nice combination of the two, with outstanding dispositions. The babies are in Mexico, Texas, California, North Carolina, Ohio, and Wisconsin. Only one male was used for breeding, and he sired two litters in Houston.
An altered son and a daughter, Diana Blu, are with me. Matilda and Baby Di will soon be bred to my new boy, Maleza Tarheel Born of Buenaventura, a large, dark, oriental looking son of a Thai import. This should produce some interesting babies! Matilda has had her moments in the show ring, before, during and since her motherhood. She was a Regional and International winner as a kitten, and in June, 2005, she earned her Quadruple Grand Championship in TICA.
She has an excellent disposition, though bossy, has delivered efficiently and mothered skillfully, and even tolerated the show ring! What more could I have asked for! Thanks, Elaine, Eva and Jose - Ann Boylan



Hegel is a beautiful little cat, always inquisitive, smart beyond his years - he loves to play 'fetch' and 'catch' and in the morning enjoys a vigorous workout by diving from one side to the other of the bed, in pursuit of a phantom mouse at the end of a cord.
He loves to entertain and is very inquisitive to explore new perfumes, hair sprays, and new visitors.
He also loves to meet us each evening on his perch just inside the front door.
Hegel has also become great friends with his older mate Coco (12 years of age) - they lie together on the heatpad they have under a sheepskin in front of the heater. They also have the normal playful, and sometimes real, 'fights' for their favourite places.
On cool nights Hegel also likes to join us under the covers. - Peter
Miette
Miette is the perfect kitten - amazingly affectionate and playful, and very talkative. Her coat is beautifully silvery and she's been growing so fast that she has stripes on her tail ­ like a tree's growth patterns. Her face is sweet and intelligent and her eyes are deep pools that are starting to turn emerald green. She has 100 different expressions and our favourites are the cheeky: 'I'm a bit crazy and about to pounce on you' and the sleepy: 'I'm so happy' squint.
She always answers when you ask her a question, and if you interrupt her while she's speaking she will simply talk louder. If she wants to play with a particular toy, she will carry it from one room to where you are, then hold it in her mouth and look at you (you'd swear sometimes she was a dog!). She is fascinated by taps and water and loves to sit on the window sill while we shower.
Her favourite games are :
· Fetch (she gallops down the hallway floorboards in pursuit of the ball and takes it in turn who she brings it back to)
· Ribbons on a String (she loves chasing a long stick with a string of ribbon on it. She can jump a metre high and is as fast as a fire-cracker)
· Chasing flies with a special chattering noise that makes us roll on the floor with laughter.
If she needs to sleep, she always prefers to sleep on a lap or the crook of your neck. She is extremely friendly to guests and a real entertainer - everyone who meets her just loves her. She purrs like mad when we get home from work and stretches up for at least 5 hugs and smooches before you have even put down your keys. We don't know what we did without her! - Sarah & Simon.
She is an absolute joy to have around. All of the research I did beforehand didn't exactly prepare me for her curious nature. Reading back, she is exhibiting many of the traits people have written about Korats. Not a night goes by without her crawling under the doona, or sitting on the edge of the bath whilst I have a shower. She has developed an odd attraction for cotton buds! She loves to help herself to them, and then just tosses them around the room. On many occasions I have found half a dozen stuffed between the cushions on my couch. - Alison.
We have only had Mako for a short time now - he was born in October 2004 - and in the few short months he has been with us we have absolutely fallen in love with him - he is a little ball of energy but so loving and affectionate! He is very intelligent and very mischievous too - he gets into absolutely everything. His favourite toys are rolled up balls of socks, hair clips and hair elastics - he can play for hours with a hair elastic - picking it up in his mouth and carrying it around, throwing it, batting it across the floor and then stalking it and pouncing on it. He loves to get us involved in his play sessions by playing fetch - bringing us the hair clip or elastic and dropping it in front of us - then staring at it until we throw it across the room and he races after it, picks it up and brings it back and starts all over again! He loves to stalk and pounce things - especially our other 10 year old Burmese X "Mishka" - but it's all in the name of play and fun - he is a very lighthearted individual who doesn't take life particulary seriously. He loves to cuddle, climbing onto either of us when we are watching TV or lying in bed - and making himself comfortable and then promptly falling asleep! - Matthew & Nina.
Lucy & MeeNoi
| | |
| --- | --- |
| | |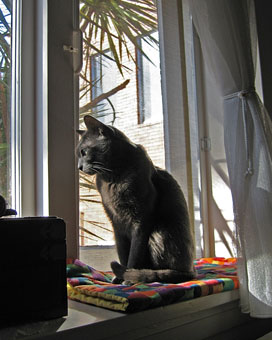 We brought our first Korat, Lucy, into our home nearly 6 years ago. I am at home during the day, and was looking forward to having some company. It is so nice to have a companion that is interested in everything you do, even the boring things like making beds! Mind you, Lucy's version of 'helping' with these tasks can vary a little from mine. It can be a challenge trying to tuck the sheets in while there is a big lump in the middle of the bed! In October 2000 we brought home our Korat boy, Mee Noi, so I now have two lumps in the bed to contend with. It certainly makes the daily repetitive tasks more interesting.
Mee Noi also loves to watch what I am doing in the kitchen and will sit on my shoulder and watch my every move. When I sit down for a rest, I usually find one, if not two, warm little bodies cuddling up to me.
When I leave the house, on my return I will find both Lucy and Mee Noi at the door to greet me. Lucy will want to 'tell me' what has happened since I left, whereas Mee Noi will just flop on the floor on his back waiting for a tummy rub. They do share many characteristics, yet still have unique personalities.
Nick travels a lot for work, and both cats take turns and crawl into his bags as if to say 'don't leave us!' and have been known to pack one of their 'toys' for him - only to be discovered by Nick on arriving at his destination. Can you imagine being pulled over by customs and trying to explain the 'mousey' in your luggage?
Liam loves coming home from school to find Lucy and MeeNoi waiting for him. Mind you, he does get a little annoyed if he finds they have been 'playing' with some of his aircraft models or soldiers while he was away. We have explained to Liam that Lucy and MeeNoi think he has set them out just for them to move around!
Being 'owned' by a Korat (or Korats) is a unique experience that is hard to put into so few words. They are loyal, intelligent, playful and loving companions, and we feel so fortunate being 'owned' by these delightful cats. - Avril, Nick and Liam.