Mehki's First Litter

Mehki & Yindee
Doklao Mekh Aah La had a litter of five kittens born on 14th November 2013.
Mum and kittens are doing well.

Mekh Aah La lives with Joy Marshall, who has bred this litter under licence from us.
Joy is learning about breeding and Korats under our stewardship.
This is Mekhi's first litter and as it is an all female litter, very lucky indeed.
We hope that Joy enjoys the experience of breeding Korats.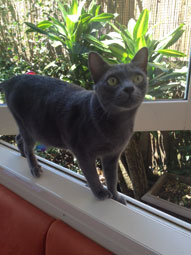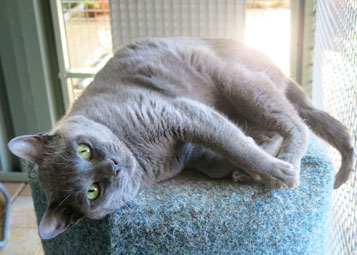 Doklao Mekh Aah La (Mekhi) and BZ DB GD CH and US CH Pewterpaws
Blue Yindee Sumatra (Yindee)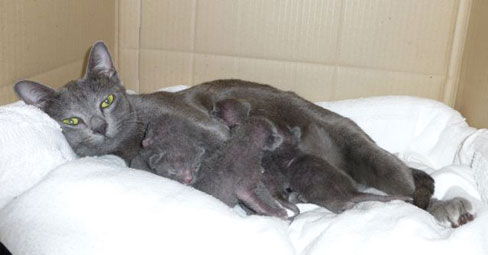 Mekhi and her new babies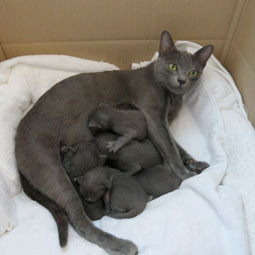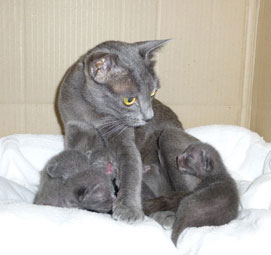 Mekhi is adapting to being a new mum very nicely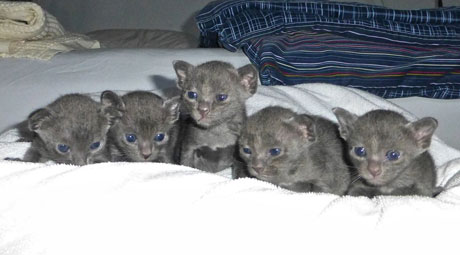 Mekhi's babies are 3 weeks old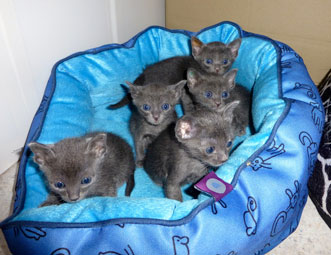 A bundle of cuteness at 4 weeks old!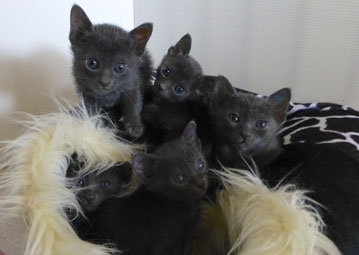 Mekhi's kittens a 5 weeks becoming very curious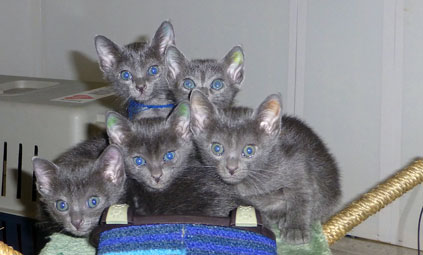 Mekhi's girls are 6 weeks old now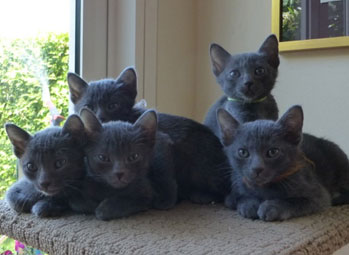 A few moments of relaxation at 7 weeks old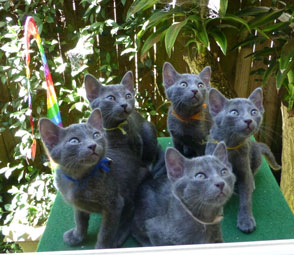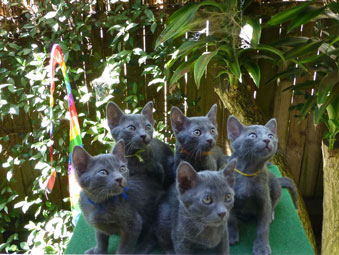 Mekhi's babies are growing up fast and are nearly 10 weeks old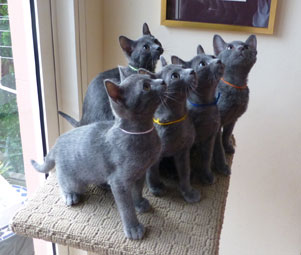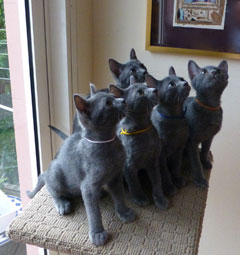 Mekhi's babies are leaving for their new homes soon and we wish
them and their new families a long and happy life together.

Yellow Collar: Lilly Pop is going to a home in Streaky Bay in South Australia
where she will live with a family including two dogs.
Blue Collar: Tenshi is going with her sister Koume (Pink collar) to live with
Caroline in the Blue Mountains. These girls will be leaving next weekend.
Orange Collar: Tiger Lily will be going to live with a family in Nelson's Bay
in NSW.
Green Collar: Rani will be staying with her mother in Enmore, NSW
Sand hopefully will grow big and strong and have babies of her own
<![if !supportLineBreakNewLine]>
<![endif]>